You might have seen this interaction elsewhere…
But in case my reaction wasn't clear, I had very clear and distinct feelings about the opportunity to see the Formation tour. Call it a partial anniversary present, but the boy came through. Please don't expect any decent writing about this experience, best summed up as a "spiritual" one, this is basically just a photodump of and semi-prayer to the gorgeousness that is Our Lady Bey.
One of us was more excited about this than the other…but he can get down to "Single Ladies" and "Diva" with the best of them, never fear.
Flawless. Both a song and a statement of fact.
Very much part and parcel of the experience, all the bow downs for her much and rightly lauded dance team who earn every inch of their physiques. Their choreography and execution is the textbook definition of "on point."  I've loved Beyonce for a long time and her reputation is one of a consummate professional and performer, but this was the first time I'd seen her live and therefore my first opportunity to evaluate that rep. It stands up.
Getting in formation, obviously.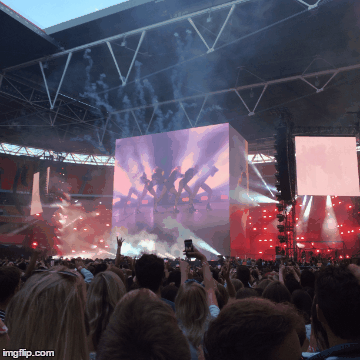 From her set pieces, to singing, to choreography, to filmography, to her lighting and filming, the whole set up was a production meant to be seen by everyone in the stadium no matter where you were seated or standing. Of course she must have some of the best event support and design in the industry, but the level of coordination and preparation it must take to develop the concept, execute it, and move it around the world with hours or days between shows makes even my organizational-geek brain melt a bit. Also, I suddenly feel that my closet is insufficiently sequined and studded…
I believe this following statement to be true.
The whole show was great fun, but the finale was a powerhouse set of anthems that left me hoarse; I regret nothing.
To summarize: the Queen still reigns.